Bonnie's Dilly Bread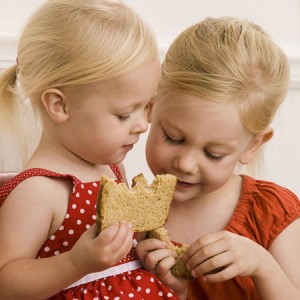 Ingredients
4 Tsp. Active Dried Yeast
2 Cups Lukewarm Water
2 Tsp. Sugar
Approx. 8 Cups Flour
(Whole wheat should be added slowly to create the right consistency.)
1/2 Onion Chopped
4 Tbsp. Olive Oil
1 Large Dill Bunch Chopped Fine or 1/4 Cup dried Dill
2 Eggs
3/4 Cup Cottage Cheese
4 Tsp. Salt
Milk for Glazing
Instructions
Mix together yeast, water and sugar in a large bowl and leave for 15 minutes to dissolve.
Stir in about half of the flour. Cover and leave to rise in a warm place for 45 minutes.
In a frying pan cook the onion in 1 Tbsp. of oil until transparent and set aside to cool.
Stir in the dill, eggs, cottage cheese, salt and remaining oil into the yeast mixture.
Gradually add the remaining flour until too stiff to stir.
Transfer to a floured surface and kneed until smooth and elastic.
Place in a bowl, cover and leave to rise until doubled in volume, 1-1.5 hours.
Grease a large baking sheet, dividing the dough in half and shaping into rounds, leave to rise in a warm place for thirty minutes.
Preheat oven to 375 degrees.
Score the tops, brush with milk and bake until browned, 30-45 minutes.
Set on rack to cool. Enjoy!