What is Long Term Storage?
Long term storage is the preparation of supplies and consumables for storage for more than a year.
There are many reasons to have a long term food storage plan and whatever reason you have go for it. You're going to have to work with the space you have. You'll need to understand that heat and moisture are your enemies. Those elements lead to spoilage.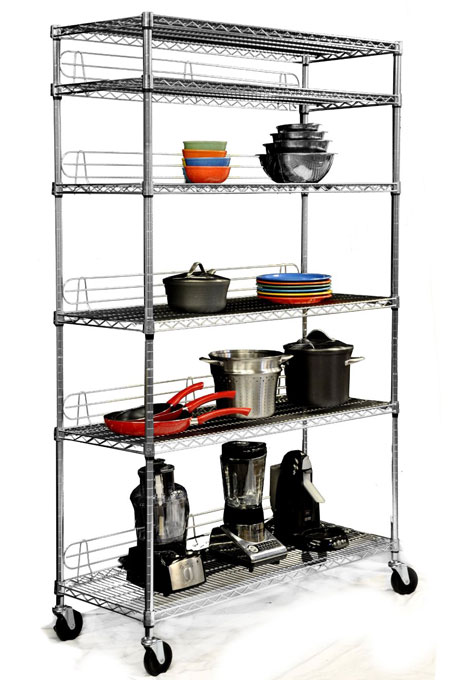 Make sure the area you choose can be as cool and dry as possible. Also, remember: Variety is the spice of life and thriving is education and knowing how to use your stored items well. Once you know exactly what you want to store then know how to store it.
Choose shelving that is sturdy enough to hold 100lbs + of weight. My personal racks will hold up to 600lbs. They are steel commercial racks I found on Amazon. NSF certified racks are food safe, nonporous and easily cleaned. They have liners available to cover the wire just in case you would like a smooth shelf. I use liners for the shelves with smaller cans and boxes. Again this is from Amazon. Amazon has been a great place to find what I need for short or long term storage; these are not affiliate links just real examples of what I use.
Make sure that you make a list of all the basic necessities you would like to start storing – those basic necessities that will store for 10 years or more. Some can last for 30 years when properly packaged and stored in a cool, dry place. Since it would be cost prohibitive to purchase a year supply of food all at once, it is best to gradually build a supply of long term food storage. This can vary the storage times by a few years giving you a greater range of time to use your food store. Important items to store are: grains, white rice, potato flakes, corn, pasta, beans and sugars; also salts, baking soda, fats (cooking oils), powdered dairy and leavening agents. Freeze dried fruits and veggies are great additions as well.
The following examples are suggested amounts for one adult.
---
Recommended Dry Grains/Supplies:

Approx. Amount for
1 Month per Adult:

Storage Term
(properly stored):

---
Wheat, white rice, corn, potato flakes, pasta and other such grains

25 lbs / 11.5 kg.

30+ years

---
Dry beans

5 lbs / 2.5 kg.

30+ years

---
Once you have your storage area set and a plan to move forward start with Dry Pack Canned goods.
Dry Pack Canning is the process used to store foods that have less than 10% moisture and are low in oil content. When properly packed, these items will last a long time – about 30 years under certain conditions(dry and cool). In our next article we will explore how to store dry consumables for optimal storage and freshness. These items include wheat, corn, beans, white rice, sugar, rolled oats, white flour, pasta, powdered milk and eggs and dehydrated/freeze dried fruits and vegetables.
DRY is the keyword. I chew on hard white wheat I get from Wheat Montana so I know how it feels in my mouth. I also have played with a lot of kinds of grains over the past few years so I can tell pretty easily between the hard and soft varieties. You may need to test of your grains. A test I read about is "The Hammer Test" so you'll need to – literally – take a hammer to the grain and if it cracks or shatters, so to speak, it's dry enough. If it smooths, smooshes or flattens it's probably not a great thing to store it using the dry pack canning methods. The natural oils and other moisture will eventually go rancid and you risk spoilage and food borne illnesses which can be dangerous, especially to the very young and old.
The thing I especially like about doing dry pack canning at home is the variety to choose what I want to store because I know how to use it, as I learn more I can expand my varieties. I can buy items from the bulk bins and stores as my monthly budget is allotted and store in my own bottles, jars and buckets. This food is the bulk of my dry storage supply.
Next week I will discuss long term methods of Dry Pack Canning.